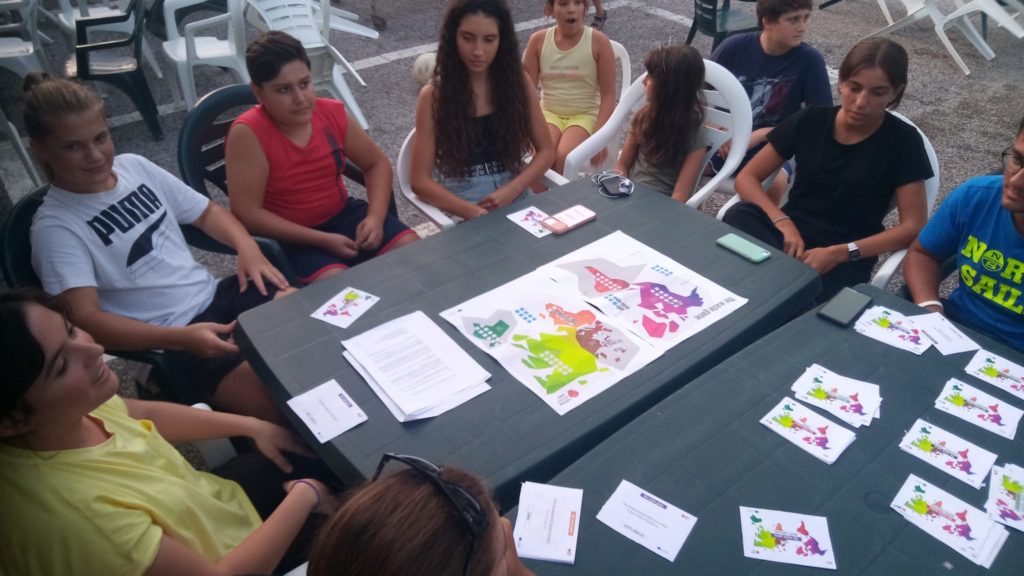 Welcome. My name is Amalur, but you may know me by another name: Mother Earth. Thank you for answering my call. My health has been slowly deteriorating because of humanity and the amount of waste they shed. That's why I need your help. I am suffocating. I need you to get rid of all this scrap for me. Could you do that?
In this game, you will be plunged into the heart of environmental issues, by embodying the behaviours of current leaders and societies, in a race to overproduce polluting waste.
Each of you will be in charge of one continent. Your goal: to get rid of all your waste! Throw them in others' continents to penalise your opponents or throw them in the sea, it's your choice. To complete your mission, you will have to answer questions, compete each other in dice battles, use your strongest arguments, be agile and let your acting skills shine! 
But be careful, your actions have consequences…unpredictable effects of environmental threats will challenge you and your strategies! 
Do you think you can win this game? Let's see at the end of your journey!
During around 40 minutes, the players will dive into today's global environnemental crisis. Through several challenges, they will learn about waste treatment and its harmful effects, fraud, corruption and environment. 
Mission
Get rid of all your waste!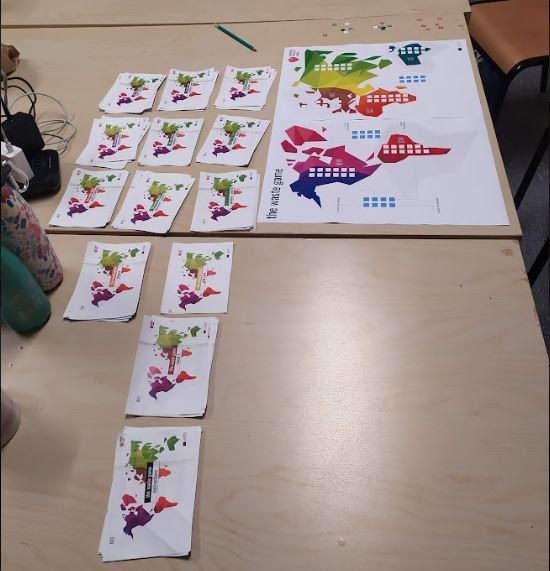 Introduce yourself to the issue of waste treatment and the challenges we have to face today

Discover the heart of environmental issues. 

Learn about integrity and fraud issues associated with waste treatment.

Introduce yourself to political and public debate around environmental problems.

Stimulate curiosity and interest in these social issues, with the aim of digging deeper via additional resources
To play this game with your group, simply download the kit below!
This kit allows anyone to use and play the board game for free and without any previous knowledge required. It will guide you step by step to implement the board game (installation, rules). It includes all the necessary elements for the successful running of the game as well as some pedagogical elements on the waste treatment and global environmental crisis, to go further in the learnings.
If you want to give us a feedback on the game and the tools, we offer a very short questionnaire to express you opinion on this experience! 
And now, it's time to play and enjoy!
This document will introduce you with the game concept and your missions. It will guide you in the installation and rules of the game.
This PDF document gathers all the elements you will have to print to implement the game (boards, tokens, cards).
This document guides you to lead the debriefing that is significant since it allows the players to acquire knowledge tackled in the game. 
This includes pedagogical resources on Waste treatment and various topics linked to environmental and waste issues, explored in the game.
Games created by Teatro Rigodon (Italy) and Ortzai Teatro (Spain) as part of the European Integrity Games project.
Artistic direction: 
Artistic collaboration: 
Plot:
Research: 
Design: 
Brainstorming team for plot creation: 
Kit conception and design:
Pictures: 
Icons:
Acknowledgement: Many thanks to the people that have tested the game and gave feedback on it, including participants of the Waste Treatment European workshop and Vicente de Sá, Marion Pollet, Calliope Anastasiadou, Coline Lechat, Raquel Nobre, Amaia Cid as well Rea Zekkou.
Thanks also to the 2021 OECD Global Anti-Corruption & Integrity Forum for hosting our events to test and promote the game.
Funders: EIG benefits from the support of Erasmus+ Strategic Partnership and the City of Paris. European Integrity Games project has received the Paris-Europe Label 2021 from the City of Paris